Russia-Ukraine conflict: how will it affect tourism?
Olivier Henry-Biabaud, founder of TCI Research, in a webinar held on March 23, differentiated this crisis from COVID-19: "The enemy was kind of unknown and very invisible, and deciding to travel was like rolling the dice, and you had a high chance of being exposed to the virus and contaminated."
The Russian invasion of Ukraine has a much more tangible effect, "the enemy has a face," and people know almost certainly where it is safe to travel and where it is not. "This is having a fairly strong impact, but not in the magnitude that we might expect compared to other crises," he added.
Impact: less demand for flights, activities, and accommodation
The main effect has been felt over the availability of oil. The dependence of Europe and the USA on Russia for energy sources and the closing of this commercial relationship has meant a big increase in transportation, food production, and, of course, domestic economies.
Many long-haul flights are not being offered. Therefore there is less supply and demand for international travel, and any remaining flights available have significantly increased in price.
Due to longer flights, higher fuel costs
International trade has changed abruptly. Europe doesn't currently transmit a sense and image of security.
There have been severe disruptions to air connectivity, and trade with Russia has been blocked with immediate effect. The butterfly effect has not been long coming: rising oil prices, the falling Russian economy, falling incomes, inflation.
With the blockade over Russian airspace, they have turned usual journeys into longer trips that demand higher fuel costs, leading to price increases or even cancellations.
Due to closed airspace
USA, Canada, Europe, and other countries have established restrictions on flying over Russian airspace. As a result, routes from Japan to Europe fly across the Pacific and over Alaska, a much longer flight.
Japan Airlines has decided to cancel flights due to more flight hours and higher fuel costs at a critical time as Japan Airlines tries to recover from the devastating impact of the pandemic, its spokesman said.
On the other hand, there are also instructions not to give coverage to Russian airlines. The global travel and tourism industry providers, Sabre and Amadeus, have removed Russian airline Aeroflot from their reservation systems. However, these measures do not affect Russian airlines operating with foreign-registered aircraft or on domestic flights.
Impact: change in traveler behavior
The psychological impact of war commonly leads to fear of travel, as has happened in past wars. However, this time, it has coincided rather unluckily with the tail end of the COVID-19 pandemic.
The instability caused by the conflict in Russia and Ukraine generates uncertainty, which, in turn, slows down travel. There have already been the first cancellations in Europe.
Fear is affecting travel. This impact is expected to be localized, however, with a greater impact on the countries in the immediate vicinity: Russia and Eastern Europe and countries such as Poland or Finland.
Impact: significant increase in inflation both in Russia and worldwide (particularly throughout Europe)
High dependence on Russian energy has raised prices, especially in some countries more than others (in the whole EU, Russian gas represents 40% of the energy supply, although, in some countries such as the Czech Republic and Latvia, it rises to 100%).
Add to this dependence the volatility of the financial markets: we already have extreme inflation.
The energy sector, food, financial markets, and economic growth are strongly affected.
The International Monetary Fund will soon update the World Economic Perspectives. But inevitably, there will be further monetary tightening coupled with a recession.
Expected inflation will cause people domestically to focus their income on the basics, such as food and power. It is therefore highly likely that the public will reduce spending on travel.
What is the Importance of Russia for Spanish, Cuban, and Puerto Rican tourism, and how will it affect these markets?
The closure of airspace, economic sanctions decreed by Western governments against Russia, and the blocking of credit cards and SWIFT transfers, have left Russian tourists in a complicated situation.
North American travelers are not canceling their plans but postponing or simply adjusting their itinerary within Europe.
In addition, major markets, such as France, Italy, and Spain, remain unaffected in their reputation. According to data provided by Olivier Henry-Biabaud, founder of TCI Research.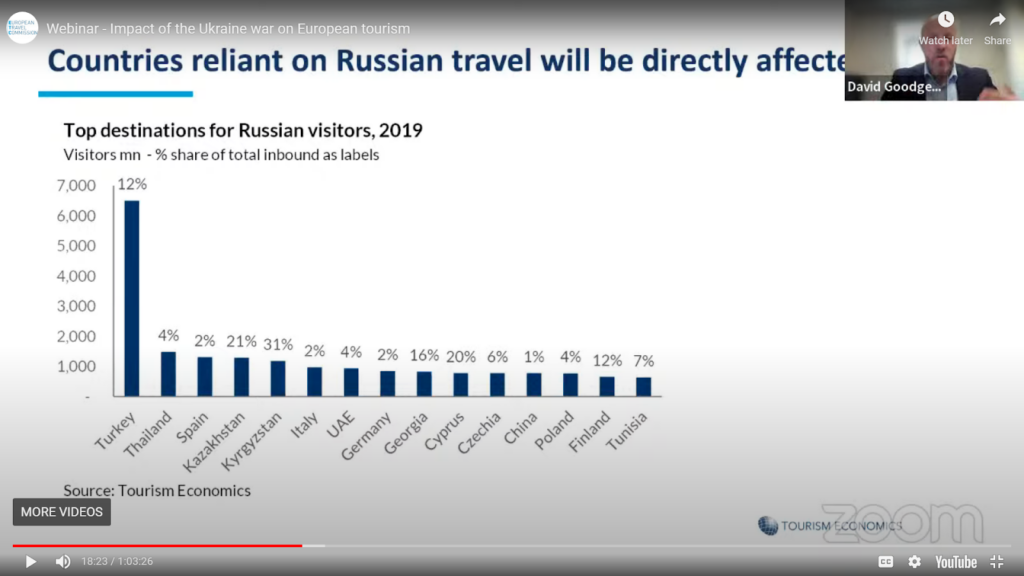 Below we will focus on our Spanish-speaking markets, but check out this resource to see how it affects other destinations.
The importance of Russia to the Spanish tourism market
After the pandemic, hopes of recovering Russian tourism were high.
In 2019, Spain received more than 1.3 million Russian visitors. The most demanded destinations by these customers are Barcelona, Alicante, Madrid, and Malaga, with an expenditure of 1.1 billion euros.
With Aeroflot and Siberia Airlines (the leading company in Russia-Spain travel) paralyzed, there are no Russian travelers. The important impact here is not the number of arrivals, but the loss of expenditure, given that Russian tourism is one of the biggest spenders in Europe.
Cuba feels economic blow from departing Russian tourists
One of the first destinations with which Russia established connections after the pandemic was Cuba.
It had become the leading source of tourists for Cuba (63% in the first semester of 2020) – especially Varadero – with direct flights scheduled weekly.
With airspace closure, Russia has canceled all flights to the island. It's a further complication for Cuba, which was already in a difficult situation.
What's more, tourism was not Cuba's only financial link with Russia. Between 2006 and 2019, Russia offered Cuba export credits worth $2.3 billion to finance projects in the fields of energy, metallurgy, transport, and the supply of goods necessary for the development of the island's economy.
In Puerto Rico, no routes are affected
Despite Puerto Rico being one of the most popular Caribbean destinations (third Caribbean destination behind Punta Cana and Cuba), neither Ukraine nor Russia are among its top travel providers.
According to Puerto Rico government statistics, most tourists arriving in Puerto Rico come from the USA (due to its proximity and visa-free travel facilities), Canada, Mexico, Central America, and European countries.
The routes between these connections will not be affected.
What does it mean for specific industries?
The aviation industry has been hit hard and will be hit harder again
The industry is not only affected by fuel increases or airspace restrictions.
European companies stop leasing 512 aircraft (out of a total of 861) to Russia due to sanctions out of a total of 861, Cirium reports.
Aircraft manufacturers and maintenance companies are not far behind in the supply of new aircraft and spare parts.
As mentioned earlier, travelfare distribution companies such as Texas-based Sabre Corp. and Spain's Amadeus IT Group S.A. and small travel agencies have declared that they will withdraw support for Aeroflot in their systems.
One of the most important events in this sector is the Farnborough International Airshow, which has suspended Russian participation in this year's event, to be held in July outside London.
Airlines from countries such as the United Arab Emirates, Qatar, and Serbia are among the few that continue to serve Russian destinations regularly.
Lufthansa, Germany's largest airline, states that "flights to the Far East may be subject to short-term changes in departure and arrival times due to the rescheduling of flight routes." Flights to the South Korean capital or Tokyo will take 90 minutes longer than usual.
Cruises canceled
Especially for those who had Russia as their destination. MSC Cruises, Norwegian Cruise, and AIDA Cruises are canceling all their calls in the city of St. Petersburg. The same is being done by TUI cruises taking "intensive" care of the mostly Ukrainian crew members.
Rental accommodation
There has been a drastic drop in demand for rental apartments in affected countries. Brian Chesky, CEO, and co-founder of Airbnb maintained that the rental platform would suspend all operations in Russia and Belarus.
In this regard, large accommodation booking companies show a wave of solidarity supported by supporting local populations by allowing bookings that will not be fulfilled while waiving intermediary fees.
In particular, Airbnb not only facilitates these reservations but is also offering houses for Ukrainian refugees (it was already doing so for those coming from Syria, Venezuela, and Afghanistan).
Another initiative is by the Stay the Night hospitality marketing agency Hospitality for Ukraine, which matches Ukrainian refugees with suppliers willing to host them.
Travel & tour operators
Cancellations for travel to Russia were made by companies such as G Adventures until at least the end of 2023. Its founder, Bruce Poon-Tip, called for more pressure on Russia by banning Russian tourists from traveling with small groups and agencies.
The big European tour operator TUI has been directly involved as a member of its supervisory board Alexei Mordashov (with 34% of TUI) was forced to resign, after E.U. sanctions, for being known as a Russian oligarch.
The reality is that international travelers are canceling their vacations to northern and eastern Europe.
Solidarity has also been shown in this sector.
Earth Changers, Vicky Smith, together with Kirsi Hyvaerinen of the European Ecotourism Network, has compiled a list of organizations actively supporting refugees and victims of the war in Ukraine. Vicky Smith's list brings together travel organizations, accommodation networks, rail operators, and others.
Through the Heygo (Local Guided Tours) platform, it has been possible to follow up on the visits during the invasion, which helps online travelers to connect with local guides. Some have been able to finance their escape through these services.
Food & drink
Russia and Ukraine together account for 14% of world wheat production and about 30% of world wheat exports. They are known as the breadbasket of Europe.
Food supplies of this commodity are already being affected in terms of consumption.
Due to the paralysis of ports and cargo flights, there has already been a shortage of key products such as oils and livestock feed, resulting in high costs.
Food & drink supply chains have been disrupted; logistics companies have halted their shipments of goods, and air transport costs have skyrocketed.
Russian naval forces have closed the entry and exit of ships in the Sea of Azov, one of the few access points for maritime trade in Ukraine.
It has created a large backlog of ships waiting to pass through the Kerch Strait. With 70% of Ukrainian exports being distributed by ship.
Insurances
In response to global sanctions against Russia and risks to the Russian economy, insurers around the world will not be able to carry out their contractual responsibilities.
Crucial insurance for companies or business partners in Russia has been discontinued.
Study abroad
Students studying abroad in Ukraine and Russia have met a difficult situation. Many of them come from Africa and South Asia.
They have had to seek refuge or evacuate as a matter of urgency. The Guardian reported that 1,200 to 1,500 international students are stranded in Sumy, a Ukrainian city near the Russian border.
U.S. and European universities have suspended or abruptly canceled exchange programs in Russia. On March 5, the U.S. State Department warned U.S. citizens not to travel to Russia due to the lack of respect for human rights.
On March 7, Universities U.K. International wrote to the Russian Union of Rectors (RUR) to sever ties with the group.
The move follows the European Commission's March 4 decision to suspend cooperation with Russian institutions and organizations in research, science, and innovation.
On the other hand, Ukrainian or Russian students currently studying abroad will not be able to meet their debts and continue their programs due to the limited access to their currencies and banking systems and the devaluation of the ruble.
Solidarity with these students has arrived quickly; communities and institutions are mobilizing to raise funds to help those affected and put in place special aid measures.
The U.S.-based Institute of International Education (IIE) has created a special line for Ukraine within its IIE Student Emergency Fund "to provide financial assistance to Ukrainian students studying at U.S. colleges and universities."
Meanwhile, several governments worldwide, including those of the United Kingdom, Canada, and Ireland, have eased visa requirements for Ukrainians.
They can now more easily acquire, extend or change visas. These rights include residency, access to the labor market and housing, health care, and access to education for children.
Conclusion
It is too early to determine the true impact. It is necessary to study the evolution of events to evaluate the possible consequences and establish necessary plans.
From the conflict and its effects on the international economy, it is obvious that the most affected will be countries directly involved and their neighbors.
Europe's image will be affected, but, as experts say, it will not be an impact like the one caused by the COVID-19 pandemic.
Tourism will not grow with the same expectations but not because of the lack of travel (or the recess that will continue as long as the conflict lasts), but rather because of the lack of Russian tourism that will leave some destinations without essential income, as is the case of Cuba, the Spanish coast or countries like Turkey.
The only hope is that reason and humanity prevail, and peace will return soon.